Your dog will still need to wear a collar and tag that states the name and address of the owner when in a public place. But from 6th April 2016 all dogs are required to be microchipped, the chip needs to be linked to the owners most current contact information to be compliant.
The Dogs Trust wants to help as many people as possible comply with the new laws by helping to provide the procedure free of charge with the help of vet practices. Contact your local vet. Alternatively visit Chip My Dog and find out where free microchipingevents are taking place!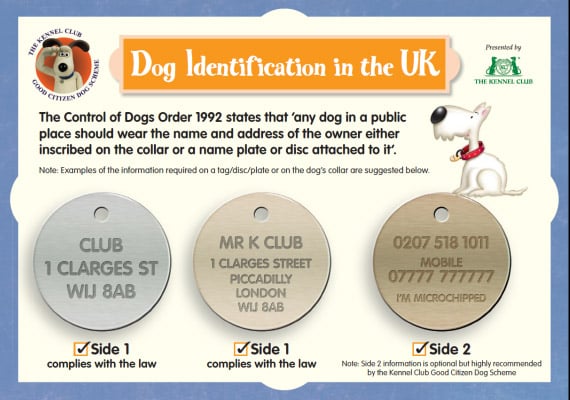 If my dog is microchipped does it need to wear a collar and tag?
The Control of Dogs Order 1992 mandates that any dog in a public place must wear a collar with the name and address (including postcode) of it's owner either engraved or written on it, or engraved on a tag. A telephone number is optional (but strongly advisable). An owner can be fined up to £5,000 if the dog is not wearing identification.
There are some exceptions to the rule:
Dogs used on official duties by the armed forces, HM Revenue & Customs or the police
Dogs used for sporting purposes and packs of hounds
Dogs used for the capture or destruction of vermin
Dogs used for driving or tending cattle or sheep
Guide Dogs for the Blind
Dogs used for emergency rescue work
A microchip offers back up if the dog managed to slip it's collar whilst for instance out on a walk or looses it's collar during straying. If the dog was stolen the thief could easily remove an ID tag but would not be able to change owners details on the microchip national database.
It is also worth noting that a straying dog with such information on its collar is normally returned by the finder directly to the owner saving the expense of claiming the dog back from local authority kennels.